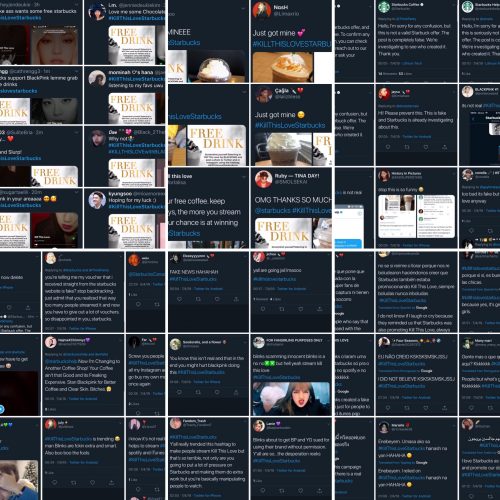 I am an anthropologist of young people's internet cultures and have spent the past 13 months learning (from scratch!) about K-pop fan practices on social media through intensive reading of academic literature, thoroughly combing through popular media, and immersing myself in various K-pop communities through digital ethnography. While I am by no means (yet!) an expert, in the past few weeks, I began to catalogue instances of misinformation in some fan network. Specifically, I traced the forms and mechanics of fan labour involved in generating or refuting such content. This interest was generated against the backdrop of a "war on fake news" in South Korea and the trend of "absurd"/"untrue" fan spoofs of idols on "fact accounts".
At this exploratory stage, I am not yet concerned with verifying the information in these social media posts per se, but rather am focused on how young K-pop fans are innovating with creating attention-generating clickbait, instigating other networks of fans to signal boost their content, and labouring to clear up misconceptions or educate their peers about literacies around misinformation. This follows from my previous work studying how social media influencers are effective disseminators and persuaders of information in saturated internet climate, including their role in generating "subversive frivolity" and their savvy in "visibility labour".
In this post, I present a brief overview of some of my observations focused on the fan-generated folklore, rumour, and potential misinformation pertaining to two incidents: 1) Bigbang member and soloist Seungri's alleged involvement in a "major sex-video scandal" and "spycams" known as "molka" (parts 1 to 7), and 2) girl group Blackpink's release of their YouTube record-breaking song Kill This Love, pertaining to platform politics and a Twitter hoax involving Starbucks (parts 8 to 10).
Screengrabs from the Seungri case study were taken from the "#Seungri" hashtag stream on Twitter on 22 March 2019. Screengrabs from the Blackpink case study were taken from the comments section of the Kill This Love YouTube video on 05 April 2019 and 08 April 2019, the "#KillThisLoveStarbucks" hashtag stream on Twitter on 06 April 2019, and the "#Blackpink" hashtag stream on Twitter on 10 April 2019.
*